The Structures In the Marine Environment (SIME) conference, organised by the INSITE program director team, marked a significant milestone in addressing the environmental implications of artificial structures in our coastal and marine environments. Held on June 28th at thestudio in Glasgow, this event brought together a diverse group of participants from academia, industry, and government, both in person and online.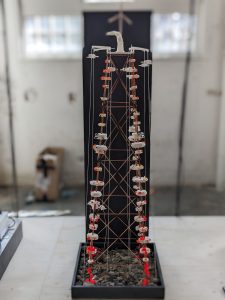 Exploring the Marine Landscape
The conference, featured 22 speakers who delved into topics ranging from the environmental effects of existing marine structures to the rapid expansion of new
infrastructure in our seas. Throughout the day, four engaging panel discussions revolved around the effects, benefits, and implications of these structures, with a focus on accelerating our understanding for the betterment of both the environment and society.
Between sessions, participants engaged in 12 stimulating research poster discussions, fostering cross-sectoral networking. One highlight was the chance to interact with a 3D model of an oil platform structure, complete with 3D-printed cold-water coral growth and biodiversity enhancement structures. Dr. Tom Wilding (SAMS) also provided an immersive experience with a virtual reality headset viewer showcasing biodiversity around artificial structure bases.
Why SIME Matters
SIME 2023 addressed a pressing concern – the growing presence of artificial structures in our marine ecosystems. These structures, including oil and gas installations, offshore wind farms, and renewable energy infrastructure, play a vital role in meeting energy demands and addressing the climate crisis. However, they also host unique communities, acting as habitats and potential stepping-stones for various species.
The biodiversity flourishing on these structures influences ecological processes, affecting everything from food webs to fisheries. Understanding these effects is pivotal for informed decision-making in marine planning, fisheries, nature conservation, and energy sectors. This knowledge lays the foundation for integrated policies and decisions in our changing seascape.
"Whilst everyone does have their own priorities, there is only one version of the truth that can sit across these different viewpoints and our job is to help find out what that is." – Prof. Dickon Howell (HMC)
Early Career Research Day
Prior to SIME 2023, the INSITE program and the National Decommissioning Centre organised an early career research day. Post-graduate researchers presented their work to peers, supervisors, and industry experts, promoting collaboration and networking. The day emphasised the importance of bridging gaps between academia, industry, and government, highlighting the need for effective communication across these domains.
Conclusion
SIME 2023 was a resounding success, fostering collaboration and understanding among diverse stakeholders. As we continue to navigate the evolving challenges of marine structures and their impact on our environment, events like SIME play a vital role in shaping the future of our oceans.
For more updates on the INSITE program and its research projects, policy briefings, podcasts, and the upcoming SIME 2024, visit INSITE's website.
Stay tuned for a brighter, more sustainable marine future! 🌊🌍💙