The European Maritime Day (EMD) 2023, an annual gathering of Europe's maritime community to discuss maritime affairs and sustainable blue economy, was held in the vibrant maritime city of Brest, France in May. Georgina Roberts, a Consultant at Howell Marine Consulting (HMC), provides valuable insights into the event's multiple topics and its broader implications for the future.
European Maritime Day: Nurturing Ocean Leadership and Sustainability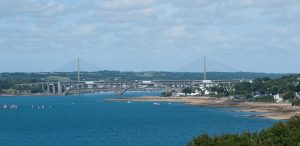 Co-organised by the European Commission since its inception in 2008, the European Maritime Day serves as a pivotal EU meeting point for maritime stakeholders to dis
cuss sustainable blue growth, collaborate on evolving policies, and raise awareness among European citizens about the importance of our seas. The 2023 event took place at the Parc des Expositions de Penfeld in Brest, France, on May 24th and 25th.
A Hub of Innovation and Collaboration
Over the two days, the event featured more than 80 exhibition stands, managed by a diverse range of participants, including research and development centres, universities, companies, associations, and non-governmental organisations from across Europe. These exhibitors showcased innovative ideas, products, and services across various themes, from maritime security to fisheries management.
Thirteen open-plan, high-level pitch sessions covered topics such as algae cultivation and EU funding opportunities for a sustainable blue economy. These sessions were complemented by 24 closed stakeholder workshops that delved deeper into the conference's core themes, including sustainable ocean observation, invertebrate aquaculture, and decarbonisation strategies.
A Confluence of Ideas and Collaboration
The venue's open layout encouraged networking among participants, fostering idea exchange and collaboration. Common among all participants was a shared vision of sustainable blue growth, emphasising the importance of collaboration in achieving long-term goals.
One recurring message resonated across a spectrum of subjects: the need to incorporate socio-economic data and seek common consensus in managing shared resources. This emphasised the importance of including local community values in policy and development plans, with innovative methods to acquire and integrate socio-economic information emerging as a critical focal point for future efforts.
European Blue Forum Day: Uniting Maritime Stakeholders
Running in tandem with the European Maritime Day event, the inaugural European Blue Forum Day aimed to unite stakeholders from various maritime sectors. The Blue Forum, a pan-European stakeholder group, convened at Oceanopolis, a facility designed to bridge the gap between scientific endeavours and public understanding.
Panel Session 1 – Shaping European Seas by 2030
The first panel session addressed the ambitious question: "What do we need from European Seas by 2030?" It delved into the challenges posed by climate change and the increasing demand for maritime space while preserving scenic seascapes.
Panel Session 2 – A Fossil Fuel-Free Sustainable Blue Economy
The second session explored the concept of a fossil fuel-free sustainable blue economy, considering the challenges and alternatives in maritime energy sources, such as hydrogen. It questioned whether these alternatives could genuinely be considered fossil fuel-free and whether the industry could afford the transition.
A Path Forward: Enhanced Communication and Collaboration
These panel sessions unveiled the hurdles facing policy ambitions related to climate change and sustainability. They emphasized the need for enhanced communication among maritime sectors, emphasizing socio-economic values when managing seas, and translating objectives into practical narratives that span Europe's diverse languages and cultures.
To continue these discussions and foster collaboration, virtual "deep-dive" workshops have been initiated, allowing further exploration of the panel sessions' critical topics.
Bridging the Gap with Howell Marine Consulting
Howell Marine Consulting plays a crucial role in bridging the divide between scientific endeavours and public understanding. With expertise in effective communication strategies, HMC seamlessly integrates scientific insights with public engagement, advocating for coastal ecosystems' restoration and preservation. As a steadfast advocate for informed coastal communities, HMC contributes to the sustainability of our coastal habitats and the advancement of a thriving blue economy.